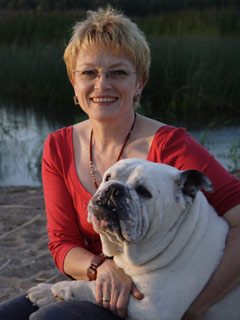 Natalia Koryakina


Florist. Botanist by training. Graduation from the Biological Faculty of Saint-Petersburg University. Long-term work at the Saint-Petersburg Botanical Garden.



In 1983 Natalia started to study ikebana.



Since 1990 she has been devoting herself to European floral design.



In 1992 Natalia finished Pirita Expo Florist School in Tallinn (Estonia).



Since 1992 she is the Art Director of her own floristic company.



Natalia has been taught by florists from Switzerland, Germany, Sweden, Norway, Holland and Taiwan.



She took part in floral design competitions and organized exhibitions in Saint-Petersburg Art Galleries.



Natalia was the project author and creator of Saint-Petersburgís Stand awarded with ten Golden Medals at "Tsvety-97" Exhibition in Moscow.



In 2002 she was Russiaís representative at International Landart Festival (Grindelwald, Switzerland).



In 2005 Natalia took part in the show of Russian florists in Taiwan.



Since 2005 she has been participating on a regular basis in the floristic edition "Floral Art" (Belgium).



Natalia teaches a lot.



Since 1992 she has been a member of the International Jury at 43 floral design competitions (Russian regional competitions, Russiaís Floral Design Championships as well as floristic competitions in Ukraine, Moldavia, and Belarus).



Since 2008 Natalia has the status of a FEUPF Judge (European Federation of Professional Florists' Unions)/FLORINT.



It is official information about me. For those who are interested, Iíll give more details…



The first traditional question for me to answer at all the interviews is like this: "What brought you into floristry"?



Itís been a long way.



After graduating from the Biological Faculty, I devoted many years to working at the Saint-Petersburg Botanical Garden. Scientific research, monitoring of plant collections and hard physical labor that only Russian women are capable of and that is praised in song… Inspiration was brought about by ikebana studies.



Exotic plants being available broadened the possibilities of creating floral compositions, and I became engrossed in European floristry. But it took knowledge in the field, so I finished Estoniaís Floristry School to feel myself a professional.



Some time later, however, I found that learning floral design techniques is only the beginning of the way, so I grabbed every opportunity of attending studies and seminars of many famous florists of the world.



When I set off to my third trip to Peter Hessís School, I regarded myself as a real professional florist. This time, besides floral design theory and painting, Peter devoted some time to theatre. The Theatre of Flowers. We were stage directors and flowers were our actors. It was then that I realized that there is always room for perfection in your occupation, and lucky you are if a genius teacher like Peter Hess comes your way. Every time you meet him you get an enormous creative urge.



I had this feeling when I was invited for the first time to be a member of the jury. The event was preceded by my taking part in several floral design competitions and being awarded the Grand Prix. The contests have been held in Kiev since 1987. Famous Peter Hess headed the Jury. Our acquaintance grew into friendship which is more than 20 years old now.



The honorable work in the jury is a very important and serious matter which requires both firmness and delicacy, but at the same time it is very exciting. My stand to judge objectively has enabled me to be invited to many floral design competitions in different cities and regions.



After each contest it is obligatory for me to gather the contestants and discuss their mistakes in order to eliminate any grudge brought about by the "unfairly" given points. Simultaneously with my work in a jury my pedagogical activity started, and I also began to take part in shows and demonstrations. Some years ago I wished to open a floristry school, but the thirst for creation and the work in my own firm put the idea to a long perspective. Probably, Iíll arrange summer studies in my garden where I have been spending all my spare time for the last twenty years.



My unrealized dream to become also a landscape designer has been implemented by my daughter Ksenia. She got proper professional education and finished a floristry school. Ksenia was also taught by European florists. Then she became Executive Director of my firm which enabled me to devote more time to plants, the garden and floral design experiments.



As for commercial projects, there have been lots of them and many of them were very interesting: decorating interiors, weddings, anniversary celebrations and different festivities. I get a kick out of developing a project when I contrive variants, when I rack my brains over the one to decide on, when clients like my ideas. And implementing a project is a hard job, and more often you need assistants and like-minded persons to get a professional final result.



Another thing is my creative experiments where I can realize any ideas and where I am to judge myself strictly, where inspiration comes from simple but dear things — painting and music, watching nature wake up in early spring, different inventions and my garden in particular. Iíll tell you about it.



Long years of working in the Botanical Garden were not traceless. And going in for floristry professionally opened new facets of plant perception. And I took on the most pleasant but at the same time very heavy burden, namely — beautification of my own garden.



From Monday to Friday floristry occupied my mind and heart and at weekends I had "a rest" in the garden, my hands on a wheelbarrow. And the nights are "white" in St. Petersburg in spring and early summer…



I wonít go into details of struggling with the swampy terrain covered with thin trees; Iíll just mention that the garden borders on a forest which turned out very useful.



My garden was mainly formed during eight years. I havenít counted myself how many kinds and breeds of plants it comprises, but my husband says that more than two thousand. He must be exaggerating greatly, but there are really very many of them and each has its origin, history, character…



And a good idea occurred to me that plants are actors and the garden is a theatre where depending on the season the decorations are changed. And to make it more interesting, it is necessary to change the decorations more often, to renew them and to supplement. Thus different "small forms" started to appear: Zinger sewing machines, old whatnots, cupboards, mirrors on the fence, towlines ejected by the Gulf of Finland, oars, and life buoys. Of course, also old bricks with coats of arms and an enormous number of stones are brought to the garden (friends even bring me stones from other countries as a present to the garden).



Everything is put to good use. Objects and as well as floral ones are created from all this. My daughter and I caught this "disease" at the Land Art Festival in Switzerland which is organized by our teacher Peter Hess. A low bow to him.



The garden has acquired a style and soul of its own. It makes me, my family, and our friends happy. We give it our forces and time and in return it rewards us with wonderful emotions and endless number of ideas.



Now it represents a beautiful symbiosis of floristry and landscape design which constantly stimulates the desire to experiment and now not only with natural materials.



And still, it is plants that are the main heroes of my experiments. Some time before our friend Kirill Rotulo started taking pictures of everything born during these experiments. Something has already been published and I hope itíll grow up into a serious project.



My best wishes,



Natalia Koryakina